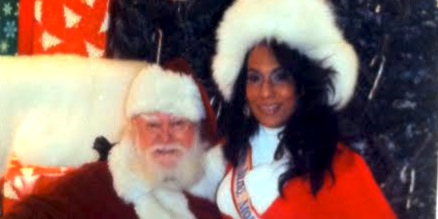 I helped out in Narnia today aka in Chester, New Jersey. You could come to Chester to get your photos taken and walk through a wardrobe into a wonderland to Narnia to meet Santa. Oh the smell of wonderful pine trees. It was just lovely. I met this guy at the end. Santa in Narnia goes on every weekend in December be sure to attend. The information is below. My photo was free and I got a cool snow globe with my photo for only $10.
Location: The Streets of Chester Shopping Mall, 270 US 206, Chester, NJ
 http://www.ilovechester.com/calendarDetail.php?Photos-with-Santa-in-Narnia-at-The-Streets-of-Chester-350
Santa Claus is coming to…The Streets of Chester!
This holiday season, The Streets of Chester Shopping Mall in Chester, NJ is offering photos with Santa in the wonderful, wintry fantasy world from C. S. Lewis' classic children's book series, The Chronicles of Narnia.
Walk through a giant wardrobe into the glistening forest where it is "Always Winter" and almost Christmas!
Just past the lamp post, Santa awaits to personally meet, greet and take photos with children of all ages.
Magical memories with Santa will take place on the following weekends in December:
Sun. Dec 8th         12 to 4pm
Fri. Dec. 13th       4pm to 8pm
Sat. Dec. 14th      12 to 4pm
Sun. Dec. 15th     12 to 4pm
Fri. Dec. 20th       4pm to 8pm
Sat. Dec. 21st      12 to 4pm
Sun. Dec. 22nd     12 to 4pm
*Get $1.00 Off Any Size Photo* with a copy of the AD from ilovechester.com
One coupon per customer.  Offer Expires 12/22/13
Courtesy of Forever Photos, Stanhope, NJ
Questions? Email Barbara at barbaram7@optonline.net
Comments
comments